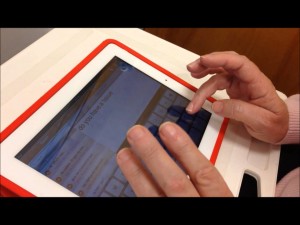 By Amy Roman, M.S., CCC-SLP
Tablets As Communication Devices:
A tablet can serve as excellent light-weight speech generating device.   Some models can even continue to meet the needs of people who experience a reduction in or the loss of hand function by providing alternative access options like mouse access, head tracking or eye tracking.   "Text-to-Speech" (TTS) apps, which convert any message you type into speech, can be downloaded from an app store at a reasonable price.  Many TTS apps have features to speed communication like word-prediction or stored phrase buttons.  Tablets are a popular choice because they're light weight, can perform countless functions in addition to being a communication tool, and people often already own one and carry it with them.
If a person with ALS owns a tablet and finds it easy to access (i.e. type text, select and scroll) there's really no downside to downloading a TTS app to try out.  One I recommend frequently for Android tablets and iPads is "Speech Assistant". This app is inexpensive and simple to learn but many similar apps are also good.    If you have used Model Talker or another software to create your personal synthesized voice, then the Predictable app  will allow you to import and use your voice.
For those experiencing hand weakness, I recommend working with an assistive technology specialist or speech therapist to find the best communication solution.  Android tablets and newer iPads (iOS 13.4 and later) provide many alternative access options.
Androids can be accessed via mouse or head tracker but often require a USB adapter.  These inexpensive adapters are specific to your Android's charging port which they convert into a USB port.  Adapters are easy to find online if you search for "USB Adapter + Android's make and model".
New iPads and iPhones (iOS 13.4 or higher)  can be accessed with Bluetooth mice.  This was a huge leap in capability and make these much better options than the older models.
Neither the Android nor the iPad currently work adequately for eye tracking but the technology is improving.  While there are some eye tracking apps, it is still very difficult to target keys on the keyboard accurately with eye tracking.  Part of the reason for that is that these tablets are rarely larger than 11″.  Currently a screen of 12″ or larger is required for accurate eye tracking that is adequate for typing.
Funding Tablets for Communication: 
Insurance
Most insurance including Medicare will cover part or all of the cost of a speech generating devices (SGD) comprised of a tablet equipped with additional speakers , durable casing, and communication software.   SGDs must be supplied by durable medical equipment (DME) vendors.   Funding an SGD requires a report documenting a comprehensive  assessment by a speech therapist and a physician's prescription.  Insurance will also typically covers the alternative access equipment (e.g. a mouse, touch pad, switches, head tracker or eye tracker, etc.) that may be required to make an SGD accessible for you and the mounting equipment required to position the SGD.
Insurance usually will not pay for an off-the-shelf tablet, a TTS app for an off-the-shelf tablet or any accessories to make it accessible to you. This is because off-the-shelf tablets do not meet all the requirements to qualify for DME funding including :
they are not useful to an individual in the absence of an illness or injury
their primary use is to serve a medical purpose
In order for SGDs to qualify as DME, Medicare and some other insurers require the SGD be delivered to you as "dedicated".  This means they only run communication TTS software. Other functions essential for communication such as the ability to send emails, check lab results on the web, text when in need of assistance, place a phone call or use skype, etc. are disabled in dedicated SGDs.  The DME vendors can typically "unlock" your "dedicated" SGD and provide you with full functionality once you have received it.  A small "unlock" fee may be charged and vendors may not be able to "unlock" your SGD if your insurer is renting rather than purchasing it for you.
Out of Pocket
Even with the option to have insurance cover some of the cost of an SGD, many people  will opt to purchase their own tablet especially if they are able to use typing or a touchscreen with mouse.  Various good reasons exist for  purchasing an off-the-shelf tablet and communication app   The first and perhaps most important is timing. The insurance funding process can be slow and waiting many months for a communication device is just not an option for some. Secondly, the co-pay after insurance can actually be more than the cost of a reasonably priced tablet and TTS app.  Thirdly, many people want additional or more powerful tablet options than those available in SGDs.  Finally, pALS who can currently use very small and light weight tablets may want to preserve their DME funding in the event that they may need an SGD with more bells and whistles, like eye tracking, in the future.
An off-the-shelf solution will always need to include the tablet and a Text-to-Speech app or program.  Other components that may be necessary to create a functional communication system include a table, floor or wheelchair mount, additional speaker, access hardware (e.g. mouse, touch pad, head tracker, eye tracker, etc.) and access software (mouse function software, dwell software).  My Pinterest boards feature off-the-shelf options for mounts, speakers, and alternative access equipment.  Even with these out of pocket costs there are times when an off-the-shelf solution may still cost less than the co-pay for a similar SGD or just make more sense for you.
Conclusion:
An assistive technology professional or speech therapist with experience working with SGDs is often crucial to setting up a system with all of the elements you need whether you are paying out of pocket or applying for insurance funding.  If you are not working with one, your local ALS Clinic, ALS Association or Muscular Dystrophy Association may be able to provide a referral.
Here are some additional videos and articles you may find helpful in your investigation of tablets for communication:
Positioning a Communication Device: An article with important tips especially if you have arm, shoulder or neck weakness.
Mounting Options:  AmyandPALS Pinterest Board with wide ranging tablet and SGD mounting options.
Hands Free Computer and Tablet Options:  Videos demonstrating a variety of alternative access options