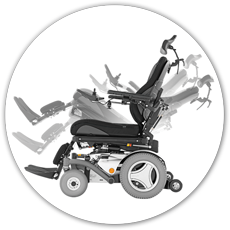 By Melody Fung, O.T. R/L Occupational Therapist
5 Features
Power Tilt and Recline: These two functions enable you to perform adjustment of back and hip angles independently. They provide pressure re-distribution and postural support to reduce the risk of skin breakdown. Tilt and recline are also essential for functional positions to allow self-feeding, reaching, computer access, and repositioning.
Cushion Headrest: A headrest provides head and neck support while tilting or reclining and helps maintain head in midline posture.
Pressure Relief Seat Cushion: PALS often spend a great deal of time in their power wheelchair and may even sleep in it. It's important to have a seat cushion that provides a good pressure dispersive surface to promote skin integrity and prevent pressure sores. PALS should perform pressure relief every 2 hours (tilt or recline).
Leg Elevation: This function helps manage lower extremity dependant edema. Combined with power recline, power leg elevation will allow the legs to be elevated above your sitting level enabling promotion of circulation in the lower extremities and a reduction in lower extremity edema.
Armrest: Proper armrest positioning provides support for the shoulder, elbows and trunk, and helps to maintain good sitting posture.  Shoulders should be relaxed and not elevated when forearms are resting on the armrest.  You may need an arm trough to keep arms in place during tilt or recline. Lack of armrest support can result in painful shoulder sockets.
Obtaining a Wheelchair
Scooter vs. Power Chair: We usually recommend PALS obtain a power chair rather than a scooter because scooters require more trunk and upper extremities strength to operate their tiller control.  Power chairs require minimal movements to operate a joystick or switches.
| | |
| --- | --- |
| | |
|  Scooter Tiller Controls |  Power Chair Joystick Controls |
Assessment:  An assistive technology professional (ATP) must measure your body so the chair supports you properly.
Timeline: The process of obtaining a power wheelchair can take up to 3 months.
Insurance: Please be aware that insurances will only cover a manual OR a power wheelchair.  We often recommend PALS purchase a manual wheelchair out of pocket and submit to insurance for the power wheelchair. Also typically insurance will only provide a new power wheelchair every 5 years.
Other Resources:
Your local Muscular Dystrophy Association or ALS Association may offer wheelchair loans. There also may be other Assistive Technology Exchange programs availaable in your area. For example, in California, The Assistive Technology Network offers a loan closet program called AT Exchange https://exchange.abilitytools.org/. The program offers used equipments for little or no cost.
Information on Wheelchair Care can  be found in an informative post by rehabilitation engineer Antoinette Verdone, MSBME, ATP