Name
Vendor
Notes
Picture
MicroLight
AbleNet
Very light touch switch.  Works well for weak fingers & very slight movement in other areas.  Velcro to a surface or lightweight mounting arm.

Spec Switch
AbleNet
Light touch but provides a little resistance which allows a finger to rest on it without activating it.

Ultimate Switch
Enabling Devices
Goose neck mounted switch for easy positioning.  Especially good for head and knee switch access. 
Single Foot Switch
Smartnav
Provides a little resistance for resting the foot on the switch without activating it.  Bonus- not expensive.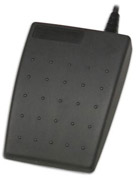 Pillow Switch(without cushion)
AbleNet
Very versatile especially for head activation. Features a safety pin and Velcro for fastening to pillow, wheelchair headrest, clothes, etc.